Keeping Ken

Keeping Ken Ken News!

National Barbie Convention 2002

National Barbie Convention 2003

National Barbie® Convention 2004
Ken and Barbie are registered trademarks of Mattel, Inc. These pages are neither affiliated with, nor a representative of Mattel, Inc. Material provided on these pages do not in any way reflect the opinions of Mattel, Inc.

QUEEN OF THE PROMSM
An Evening Under the Stars
2001 National Barbie® Doll Convention
Hosted by
the Fashion Doll Collector's Club - Great Lakes Chapter

| | |
| --- | --- |
| | We formed a Willows High Keeping Ken Convention Club for activities planned throughout the convention. The convention proudly boasted that it will be in celebration of Ken® doll's 40th Anniversary and the 40th Anniversary of the board game "Queen of the Prom™". It delivered both celebrations! The whole event was creatively done with a theme centered around the Summer Semester at Willows High. Here is a sampling of the some of the events (curriculum) that were held. Separate link picture pages follow each event covered! |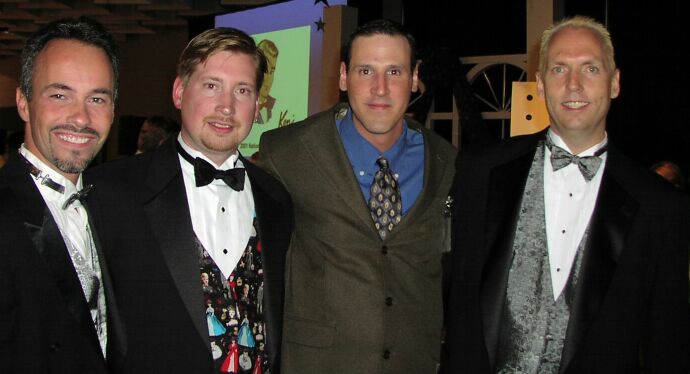 Four men on a mission to make Ken® the star of the 2001 National Barbie® Convention. Mission accomplished!
Tuesday July 24, 2001
Phys. Ed.-Endurance-Flight and Arriving I arrived on Tuesday at the hotel around 2 p.m. There was a mix-up of some sort at the front desk and they ended up checking me into a room, when Dwane Adle (my roommate and co-chair of the convention) already had a room. Not knowing, I unpacked everything. I then went to look for Dwane in the lobby, who told me I was in the wrong room. So I had to repack and get to the right room. Dwane was so helpful helping me repack. I set up 40th Anniversary and Traveling Ken on the nightstand, where they stayed most of the convention.
Dwane asked me if I would like to hang out with him and I was put to work on last minute convention preparations. I was so happy to help! We did about everything imaginable and then Dwane treated me to dinner in the hotel with his partner Andy and their son Alex along with co-chair Dorinda Balanecki and the Reception entertainer Camille West (for the following evening) and her husband.
After the nice dinner, we took some pictures and it was back to work! We set up the school store till 2 a.m., which we left looking great for the opening the next morning at 9 a.m.
Wednesday July 25, 2001
Phys. Ed.-Endurance-Registration You could register early Tuesday night in the main lobby of the hotel from 5-7 p.m. I was busy with Dwane, so I ended up registering the following day. You could register all day from 10 a.m.-7 p.m. on Wednesday. Upon registering, you received a clear plastic book bag filled with the souvenir Yearbook. Probably the cutest idea is the yearbook that pictured conventioneers. You must submit an high school era or current photo with description to be pictured, which I didn't do, but now wish I did. You could also send in club photos, high school event photos etc. You could also choose to advertise in the yearbook. Also in the book bag: two pompons, pencil case with QOTP logo, ruler and water bottle, Ken®/Barbie® logo pencil and various advertising packs from doll dealers. We were also treated to a goodie bag provided by KB Toys. Inside the goodie bag: photo album with QOTP Barbie® logo, Barbie® "Cool 'n Squeezy" camera and Barbie® film, coupons, packaged Barbie® fashion, pogs and a Barbie® Collectibles™ 2000 pin.
Study Hall-Reception A dessert and coffee reception was held from 7:30-8:30 p.m. It was the first official gathering of conventioneers in the Hubbard foyer. A welcome and entertainment presentation would take place later in the Hubbard ballroom. I finally met some people I met via email! I arrived so late, I never got a chance to have any dessert, but it all looked GREAT! During the presentation, awards were handed out to major sponsors of the convention, which included KB Toys, Dolls In Print magazine and doll dealers Marl Davidson, Joe Blitman and Sandi Holder. There were more sponsors, but these are the ones I remembered! Later, a young man gave a moving speech about his challenges living with dyslexia. The convention proceeds will benefit the 32nd Masonic Organization, which works with children affected by dyslexia. Then it was time for the entertaining styles of singer/humorist Camille West (http://www.camillewest.com/). Just hilarious!
Pictures of this event at National Barbie Convention 2001-Opening Reception
Track and Field-School Store. The School store sold the coolest "Ken®, he's a doll!" logo clothing. It includes this text with a Vintage caricature of Ken®. I was busy buying from the store when it opened on Wednesday. The school store holds the most memories for me since I help set it up with Dwane, Dorinda and Alice Tuesday night. The School Store had many items that were not part of the original items available. You could buy more charms, pencils, a QOTP game board mouse pad or note cards. The coolest new clothing item not available for pre-order was logo jean jackets of Barbie® or Ken®. I had ordered early to have the clothing before the convention, but it didn't stop me from buying more. There were t-shirts (two colors), sweatshirts (two colors), chambray shirts (three colors) and zippered totes to choose from. Of course you could also choose a Barbie® caricature from the "Queen of the Prom" game. The logos look similar to the caricatures to the left! Also available in limited quantities were the Queen of the Prom board game t-shirts which I believe sold out immediately!

Picture of this event at National Barbie Convention 2001-School Store
Track and Field-Raffle Room. The Raffle Room was set up in the same room as the School Store. You could start purchasing tickets for the raffle on Wednesday. There were many great items to choose from, even a free registration packet to the National Barbie® Convention 2002 in Denver next year! Not ever being lucky at this sort of thing, I didn't spend too much money buying tickets. I saw a OOAK Ken® and Barbie® gift set I loved with them dressed in 1915 touring clothes, and I deposited half my ticket into the plastic tote in front of it. The raffle items were excellent, and some of the OOAK creations from the Competition Room were also in the raffle. I donated a logo Keeping Ken "Weekender" bag that was different from the one I handed out during the Ken®'s Diner event. Tablemate Robert Gardner ended up winning it at the Raffle Room drawing held at the Prom Friday evening!
Pictures of this event at National Barbie Convention 2001-Raffle Room
Thursday July 26, 2001
Home Economics, Shop Class-Workshops that include a "Hair Club for Ken®" presented by Suzanne Bowns. This class was a MUST! It dealt mainly with the "reflocking" process. There were other workshops including "Barbie® Doll in Cyberspace" which covers Barbie® related internet sites (including Keeping Ken) and collecting. This class was presented by Vicky Lewis (http://www.vicky-web.com/) and Sandi Holder (http://www.dollattic.com). There was also a Mattel representing the http://www.barbie.com/ site. A "Diorama and Displays" workshop was also presented by Madison Plendl (http://members.nbci.com/madison66/onthescene/) and Michelle Blankenship. Other workshops include "Fairy Ornament", "Hand-Beaded Evening Bags in Miniature", "Millinery for the Fashion Doll", "Artist Makeover Dolls" and "Charm Doll Pins".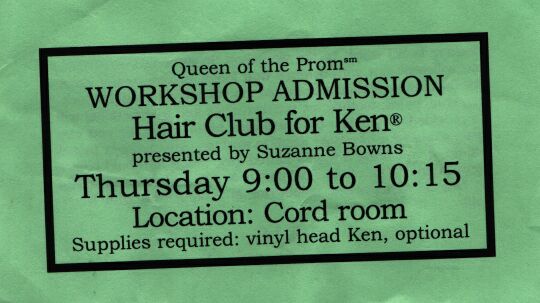 Above: My ticket to failure :)
I attended the "Hair Club for Ken®" presented by Suzanne Bowns. I didn't do so well as I attempted to reflock a Surf City Ken. This Ken®, with your choice of flock color, glue and brushes were provided in this class. Instructor Suzanne Bowns did a great job of explaining, but I didn't "pack" the flock very well, but I had a blast trying. Because I was truly at the bottom of my class, http://www.barbiecollectibles.com took a picture of me and my doll. See the story here. Flocking is more artistic than you may think! I was going to actually try reflocking a Vintage doll, but I couldn't get the original flocking off! Alice Rice (Convention Souvenir Sales/School Store), even came into the Men's room to help, but we couldn't get it all off. So much for those rumors about the "delicate" flocking on the original doll. Anyway, I chose a shade of blonde for my doll. By the time he was done, it looked like a bad dye job. I did buy the other shade of blonde flock material for my Vintage blonde FH Ken® doll. I learned that the original blonde FH Ken® doll used two different shades of blonde flock. Maybe when I have the guts to try again, I'll take on the challenge.
Pictures of this event at National Barbie Convention 2001-"Hair Club for Ken"
The prom related Fashion Show "What To Wear" included Ken® of course. Ken® attire modeled by conventioneers included Victory Dance #1411, #1431 Guruvy Formal, Best Man #1425, Dream Date Ken and a few others. Right after my flocking class, I hurried to practice for the fashion show. Charles Josef was great to work with and meet. The fashions worn were arranged from Vintage to present time. More on the actual fashion show later.
Home Economics, Accounting Class-Sales Room The sales Room opened to conventioneers from 1-4 p.m. This was your first chance to see exactly what was inside. Room shopping was going on since Monday (or in some cases, sooner), but this was the first day the Sales Room was open. I must have been blind, but I did find a few things. I mostly enjoyed hearing from friends about the cool Ken® stuff they found! Jack found some great foreign market Ken® dolls (pictured in the link below) and Dwane snagged a VHTF Montgomery Ward's Mod Hair Ken® doll in the original shipper. It was from Michael Augustyniak's room and is the one pictured in his book Collector's Encyclopedia of Barbie Doll Exclusives and More. I couldn't believe I overlooked them, but congratulations to Dwane and Jack for the great finds! The sales room was overwhelming and full of almost anything you could dream of finding. I went for a few hours, then went to lunch with Mike. The sales Room was opened on Friday from 3:30 to 6:30 p.m. and again on Saturday 9:30-10 a.m. (conventioneers only) and to the public from 10 a.m.-3 p.m. The pictures I took were from different days!
Pictures of this event at National Barbie Convention 2001-Sales Room
Assemblies-Fashion Show. The fashion show was the first event held before the banquet for all conventioneers Thursday night.. This was the first sit down meal event. The table doll from our table host Mike Bloxom was inspired for events held later in the evening. The "Ken's Wild Slumber Party" outfit was a multi-item outfit which included boxer shorts, slippers, sleep t-shirt, robe and matching sleep pants. The outfit was accompanied by a loose Ken doll wearing a custom made jock strap on stand. Nothing like getting noticed right away huh? The table centerpiece provided by the convention was a recreation of one of the original cardboard walls from the Vintage Barbie Fashion Shop. It had two dressed Barbie dolls on each side with one looking in the window at another doll on the other side (inside the shop) trying on a gown and admiring herself in a real floor mirror.

The fashion show was a complete success simply because it was well organized by director Charles Josef. The live models posed in windows on each side of the stage until it was their turn to take the runway. The fashions were shown in order of their appearance in the Barbie and Ken fashion line. I thought this was a great idea, but it meant that I would be the third model to take the runway wearing Victory Dance #1411...and the first guy. I was so nervous I mostly looked for my "spots" on the runway floor, the places where I needed to stop or turn. At the end, all models came out in pairs of two. I wasn't so nervous the second time with someone on my side. I even waved to cheering crowd. Maybe I'll do better next year!

Above: Me wearing Ken® fashion Victory Dance #1411 (1964). The model next to me wears Barbie® fashion Let's Dance #978 (1960-1962).

Photo courtesy of http://www.dollsinprint.com/

Immediately after dinner, a OOAK charity auction was held with many beautiful dolls that were on display in the banquet area. My favorite was Paul Bruce's Calendar Girl fashions. Twelve Vintage looking expertly tailored outfits that would take your doll all through here Senior year in High School, to getting ready for college. There were incredible! Other artists included Karen Cooper and MiKelman.

The convention passed out a Barbie® fashion packaged in unique Vintage packaging to each member at each table. It had a "fur" wrap, miniature yearbook (that matched the convention yearbook), pearl necklace, cello wrapped floral bouquet, silver clutch purse and an "Evening Under the Stars-Prom Night July 27th 1961" miniature program. KB Toys also gave out a Bowling Champ Vintage reproduction Barbie® doll to each conventioneer!

Pictures of this event at National Barbie Convention 2001-Fashion Show/Banquet
Recess-Boys Only Slumber Party. This was by invitation only. We didn't get any panty raids, and I was looking forward to that. We held the party in Dwane and my room and had a great time with snacks and refreshments. Jack Wooten helped us with the party expenses and planning, which Dwane and I were so thankful for! We played the "Queen of the Prom™" board game as well as the Generation Girl™ Friendship game. We also played another board game called "When Barbie® Met Ken®". All the games were fun, except for the Generation Girl™ Friendship game which was too predictable. Dwane handed out "Ken®...he's a Doll!" logo boxer shorts to tablemates. He also made available a few extras for the winners of each game We set around and talked and watched two movies (Pajama Party and Prom Night) until I fell asleep on the couch.
Picture of this event at National Barbie Convention 2001-"Boys Only" Slumber Party
Friday July 27, 2001
Language Arts-Special Guest Speakers Suzanne Bowns and Dwane Adle present "Ken, He's a Doll, which will be followed by the Mattel presentation.
This event was held on Friday July 27th. It was a lunch function and was the best part of the entire convention in my opinion! The banquet room was decorated as "Ken®'s Diner". The decorations included a soda bar with seats, '50's inspired graphics and large soda mugs that were placed on the stage. True to the diner theme, we ate meatloaf with mashed potatoes and gravy. Our table host Mike Bloxom provided a Keeping Ken Commuter bag that had a Surf City Ken and Fashion Avenue #29679-0980 "Ken Dot Com" Fashion inside, as well as a "Ken Only" plastic parking sign. A prom-themed package containing a Willows High School banner, a corsage, two "tickets" to "An Evening Under The Stars" Prom, and a Willows High letterman jacket made for Ken was given as a convention gift at each table. The centerpiece at this function (on each table) was a green car with Ken® standing beside it holding a corsage. On the car seat was a tuxedo on hanger in a plastic "carry case" provided by Paul David. A lottery was held and Suzanne won the centerpiece, only to graciously give it to me as a gesture of appreciation. I was so thankful, and Suzanne is a special, lovely person! Then Suzanne and Dwane Adle (both guests at our table) took to the stage to officially start the event after lunch was finished. They did a brief introduction to the audience about Ken®. Both passionate Ken® collectors, they spoke about Ken® collecting and his history. They voiced their personal opinions about what Ken® means to them, which I felt was quite an emotional moment for each of them...and me, as I was so excited I had to dry my eyes a few times because I was so proud that Ken® was finally getting the recognition he deserves. Dwane was dressed in an embroidered vest from the front of a Vintage Ken® case where Ken® is wearing Campus Hero #770. Suzanne brought up her Surf City Ken® dressed in Ken.com Fashion Avenue to the stage from her Keeping Ken commuter bag. She also carried the Ken Only Parking sign. They then introduced the video "Ken® The Ultimate Survivor", which was outstanding. The "dorothyalice video" was made especially made for the convention. Witty and humorous, it outlined Ken® doll's history from fads, head molds and versions. The audience loved this video, and the opening credits were a take-off of the CBS show "Survivor". Different versions of Ken® were shown, with each version "starring" Ken®. Most of the pictures used were from Dwane's personal collection (and a few from mine too). I was so excited to see that they included my name and website address in the ending credits! I was also quoted in the video. VERY exciting! I truly feel a lot of people learned about Ken® for the first time from watching the video.
Next was the Mattel presentation. First Sharon Zuckerman spoke about being a designer at Mattel. During her speech, pictures of the dolls she designed were shown on a video screen. Our table kept clapping every time they showed the Ken® dolls Sharon has designed including 40th Anniversary Ken, Harley Davidson Ken and King Arthur & Queen Guinevere Gift Set to name a few. I was glad that Sharon was the speaker since she does most of the Ken® dolls represented in the Barbie® Collectibles™ line! Then we were shown a video on Sharon's "Grand Entrance" Barbie® doll. Next, Melissa Cohen from Mattel's Marketing Department introduced Barbie and Ken models sporting recreations of the original swimsuits. The crowd went nuts to get a photograph of the life-size "dolls." After a speech to conventioneers from Melissa, a video was shown that featured Ken® doll in television commercials spanning from 1961 to present. The commercials featured Flock Hair Ken, Live Action Ken, Dream Glow Ken, Shaving Fun Ken, Big Brother Ken & Baby Brother Tommy and Dr. Ken & Little Patient Tommy just to name a few! The biggest laugh from the crowd was the commercial featuring Cool Shavin' Ken. I was in tears laughing so hard! It was a GREAT montage of commercials featuring Ken®, and I loved every minute of watching it...I just wish I had a copy!! After the video, Melissa brought back out the models. This time, Barbie® and Ken® modeled the dolls' signature 40th anniversary ensembles. The crowd went nuts again! Then, Melissa started handing out a bunch of Barbie® Collectible™ dolls from raffle tickets numbers she was calling out. The raffle tickets were given to each person at every table at the beginning of the lunch. I think Mattel handed out about 20 dolls! Then she drew one last number and that person won every doll in the Barbie® Collectibles 2001 line. That's about 28 dolls in all I believe and the winner also won the life-size Barbie® doll's dozen roses. After that, Mattel instructed the table host to pull the Mattel gift to each conventioneer from under the table. Mike passed out a 40th Anniversary Ken® to each one of us at the table. It had a "National Barbie Convention 2001" sticker on the top right corner, which distinguished it from the regular 40th Anniversary Ken doll. I thought it was a wonderful presentation and thoughtful gift from the people at Mattel!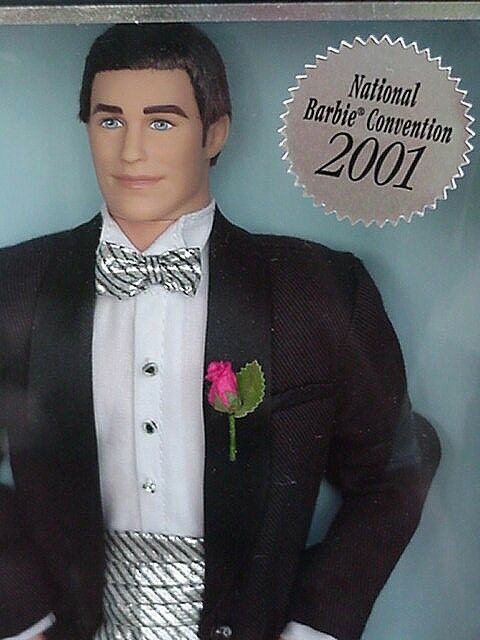 Pictures of this event at National Barbie Convention 2001-Ken's Diner
Talent Show-Competition. The competition is unique this year with two divisions of artists. One is for amateur creators who have never sold any of their original creations and the other is for the professional creator who have sold their creations. Both division of artists will compete in categories that include:
Doll or Dolls: Queen of the Prom, King and Queen of the Prom, Worst Dressed Couple, Bad Boys, Prom Night Mishaps, Prom Corsages, Just for Play (Vintage doll, newer outfit) and Just for Play 2 (newer doll in Vintage outfit).
Dioramas: Shopping for the Prom, Getting Ready for the Prom, Prom Night Mishaps, Dance Band, After the Prom, Senior Trip and Decorating for the Prom.
There is also NRFB, MIB and VOOB (Vintage Out of Box) vintage and new dolls, store display and clothing competitions.
Pictures of this event at National Barbie Convention 2001-Competition
Prom Night-*An Evening Under the Stars*. This was your chance to recreate the "prom of your dreams". It was a black-tie affair that included an OOAK charity auction, dancing and the raffle drawing. I was vowing and wowing the crowd to be crowned "King of the Prom". I ended up winning "runner-up", which essentially meant I was the Prom Prince. Tickets for King and Queen were handed out in each registration bag. I had to collect as many tickets as I could to win. The tickets were also available for sale ($1) at the School Store, and the proceeds went to charity. You could have a prom picture taken at this event, which I skipped since the line was so long. I ended up spending most of the prom with Jack Wootten as we went "stag". The prom was one of the most "festive" events at the convention and made even more fun by Jack who helped promote me as Prom King and Sandi Holder who ended up being my Prom Princess!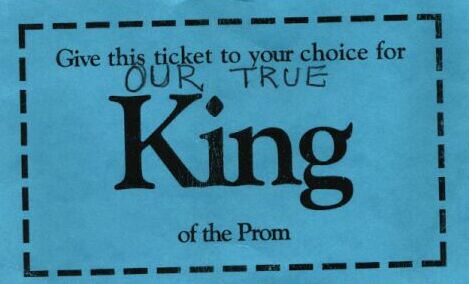 Above: Jack personalized his ticket to me, making me feel a lot better about being "runner-up".
Mattel handed out a reproduction of the actual "Queen of the Prom™" board game, and the convention handed out pins that were miniature versions of the board game. The raffle numbers were called out (no luck for me) and the raffle gift numbers were announced and passed out to the lucky winners. Also, the OOAK charity auction item winners were announced. I was so busy campaigning for King of the Prom that I never had a chance to go to the pool area to look at the OOAK charity auction items or get my game from Mattel. (Dwane got me the game later). I did get my QOTP pin though!
After being announced as "Prince of the Prom", I took pictures with the royal court and headed back to my room. The next day was my last chance to shop in the sales room!
Pictures of this event at National Barbie Convention 2001-Prom
Saturday July 28, 2001
I spent most of this day shopping in the sales room trying to uncover some Ken® things people missed. I ended up shopping with Dwane and Jack. Jack and I ended up finding a great deal and something for both of our collections that will tie us together forever! A seller at the sales room had a Bendable Leg Ken (Blonde) and a Allan (Bendable Leg) for sale. What made them unique (besides the fact they were in pristine condition) was that they were the same store stock. Both boxes had the same price tag, meaning these dolls have been together for about 36 years. Jack bought the Allan® and I bought the Ken®. To me, this is what makes collecting so fun. Not only did Jack become a good friend during the convention, we know that we have a tie within both of our collections. Whenever I look at my Bendable Leg Ken, I'll know his partner and friend of 36 years is with my friend from the convention. This was one of the most memorable experiences of the convention for me! Here is a picture of Jack and I with the National Barbie Convention 2001-Bendable Leg Ken and Allan.
After shopping, it was time to pre-pack, which took the rest of the afternoon! It was a must to be prepared for departing Detroit the next morning. After that, I got ready for the Class Reunion.
Class Reunion-This event had to be the most relaxing of all the events. It was a time to reflect back on everything so far. I had the best conversations with people at this event! When I first entered, I saw my Prom Princess Sandi Holder and as soon as we greeted each other, we were promptly mobbed for a photographic moment. While only the Prince and Princess, I think we were pretty popular members of the royal court. We stood there for awhile for pictures. By the way, Sandi Holder is the sweetest person I met at the convention (besides Brian Wood and Madison Plendel)!
This event was just awesome. Everyone was in optional black tie. I "optioned-out", but I did wear a sport coat (probably due to the fact I am so use to casual clothes). Everyone looked great! This event was a meal event as well as a OOAK charity auction and souvenir doll presentation for the convention. Our table host Mike also presented us with our Ken® and Barbie® gift set dolls, which are so outstanding that words cannot describe them! Karen Cooper's skill at facial painting turned the duo into the most attractive dolls I have ever seen! The gift set featured Dr. Ken & Little Patient Tommy (minus Tommy™) with a painted goatee and a Corduroy Cool brunette Barbie® with a repainted face. Ken® wore a hand crafted tuxedo but Barbie® wore his tuxedo jacket, and nothing else but shoes! The box liner was a map of the Detroit area and the gift set lid had a Michigan license plate with "KEN OO1" and "Michigan Dream Date". It was just the best and everyone agreed that Mike did an outstanding job! To make things even more exciting, Mike donated his gift set to the OOAK charity auction and it fetched a winning bid of $500...yes, $500! We all knew it was awesome...and now it was worth $500 awesome! The OOAK charity auction ended up raising around $35,000, with proceeds going to the 32nd Degree Masonic Learning Center in Detroit. Other stand out dolls were Melissa Windham's "Blonde On Blonde" Silkstone Barbie® doll ($7,500) and Mattel designer Sharon Zuckerman's Moulan Rouge-inspired doll fetching $17, 000!
Other table gifts included a Photographer Ken from Kim, who went over the border to Canada to retrieve this HTF Canadian version of Ken®. Kim said they had to go to several different stores to find enough. Kim also popped the cork on a bottle of wine at the table which was very nice! She also had a can of Diet Coke in case we wanted that. Robert and Kathy Gardner had a Vintage Ken shirt for each table guest. All the shirts were different and I ended up trading with Kathy for the Pak Short-Sleeved Shirt 1962 in white. I thought all of my fellow table guests were so thoughtful and nice!
Then it was time to unveil the Fashion Doll Club - Great Lakes Chapter convention doll. Designed by club member Paul Bruce, it featured a ash blonde side-part reproduction Vintage Barbie® doll in a cream dress with Barbie pink pop colors!
Pictures of this event at National Barbie Convention 2001-Class Reunion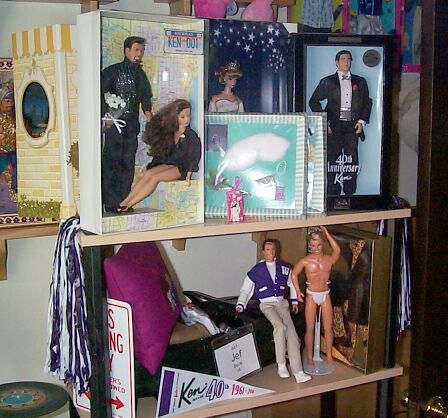 ABOVE: Haul of souvenirs from the convention!

Michael in NY (mailto:BarbieGuyNY@aol.com) artistically adds a new character in the "Queen of the Prom" game; himself!
BarbieCollectibles.com had GREAT convention coverage! From July 26 through July 28, they provided daily updates directly from the convention in the Ponytail Press. Staff writer Lisa Steadman attended the convention and kept a daily diary, including photos of new friends she met as well as the inside scoop from the heart of the convention. Once the convention was over, Lisa included a wrap-up article, including BarbieCollectibles.com "Best of the Convention" photos. No words can describe the professionalism Lisa Steadman and Valerie Case showed throughout the convention. I formed a close and great friendship with both ladies. I love you both!! I can't wait to see them again next year!

I was included in the convention coverage and won "Best Friend to Ken" and ended up being involved in the "Best Find" in the convention wrap-up.

Screen Shots of these events at National Barbie Convention 2001-Barbie Collectibles.com
Willows High Keeping Ken Convention Club:

President:

Mike Bloxom mailto:KensRUs@aol.com

Committee Members:

Dwane Adle mailto:dwaneadle@aol.com

Jef Beck mailto:jef@manbehindthedoll.com

Table Hosting (Mike Bloxom), Souvenirs (Mike Bloxom, Keeping Ken website). Here is our table guest list:

Convention Table Guests

Mike Bloxom, Memphis Tennessee

Avid Ken collector/photographer, who has recently provided Ken photography for Barbie Bazaar.

Jef Beck, Cedar Rapids, Iowa

Owner of the ultimate Ken web site www.manbehindthedoll.com and frequent writer for Barbie Bazaar.

Dwane Adle, Huntington Woods, Michigan

Major Ken collector and convention co-chair/guest speaker.

Robert & Kathy Gardner, Mission Viejo, California

Both are Barbie collectors, and Robert's articles are published frequently in Barbie Bazaar.

Suzanne Bowns, Saginaw, Michigan

Major Ken collector and convention co-guest speaker.

Michael Neumann, Buffalo, New York

Jack Wootten, Drexel Hill, PA

Ken collector.

Kim Albertson, Los Angeles, California

A new mom, Kim is a long time Barbie collector, and regularly sells at the Barbara Peterson doll shows
Upcoming Convention News
by Michael Jankun
Next year's convention is, of course, "Rocky Mountain Mod" to be held in Denver, Colorado on June 5-8, 2002. The host club will be the Fashion Doll Club of the Rockies, the chairwomen are Debbie Baker and Shantel Ballard, and the chief convention site will be the Adam's Mark Hotel- Downtown Denver.
Interesting note: The convention was originally known as "Mile High Mod" because Denver is known as the mile-high city, but the name was changed because of the racy implications of the term "mile high." (Don't want people to think of Barbie® and Ken® joining the Mile High Club on the Barbie® Airplane.)
The 2003 convention should be a lot of fun as it is being held at Walt Disney World in Orlando, Florida. The setting will be the Coronado Springs Resort in Disney World, and the convention will start on Tuesday 6/24 and run thru 6/29. The extra day will allow all conventioneers time to actually see one or more of the Disney Parks. This is a great idea. Nancy Parsons is the chairwoman, and she did a great job running the Pittsburgh convention. The theme was supposed to be "The World of Barbie®" but that may still change. I did talk to Nancy, and she said that she wanted the theme to be more universal than at past conventions. I, myself, have been a major critic of conventions that adhere too closely to a theme, especially when it affects competition and the fashion show, and I'm glad to see that Nancy is striving for more variety.
Finally, the 2004 convention will be held in Asheville, North Carolina. The theme of the convention is "Dreams Do Come True" and it will be held June 30- July 3. The host club will be the Carolina Collectors Doll Club, and the co-chairs are Erma M. Rhodes and Suzie Boone. These ladies were very lively and confident, and they greatly impressed the Steering Committee. The chief hotel for the convention will be the elegant Grove Park Inn, with additional rooms available at the nearby Renaissance and Inn at Biltmore Estate. The convention heads were hoping to have shuttles between hotels. This convention looks to be a bit more expensive than past conventions, but in an outstanding setting.