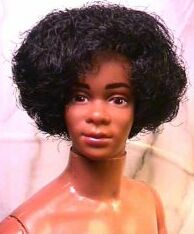 M#: 3849 BD: 1981 HC: Rooted black (curly) AND also available in Painted Black. C: Yellow with orange trim swim trunks. A: Striped towel (purple, green, yellow). Aqua rim with mirrored lens sunglasses.
Beachcombing!
In 1980 a new and innovative idea stuck, then stuck. The BarbieŽ circle of friends had included African American friends since the introduction of Talking ChristieŽ in 1969 and Talking BradŽ the following year, 1970. Free Moving CaraŽ and CurtisŽ would follow in 1975. In 1980, the very first African American BarbieŽ appeared on store shelves, simply called "Black BarbieŽ". Her attitude is unmatched, as she is displayed with her hand in her short afro styled hair. Her style didn't match her attitude much, as a SteffieŽ head mold was used. In the years following a Hispanic head mold was used for African American BarbieŽ until 1988, when she would borrow ChristieŽ's. Things would be quite different for KenŽ.
It must be pointed out that KenŽ PRECEDED BarbieŽ in crossing over the racial barrier. 1979's Hawaiian KenŽ, is depicted as a native Hawaiian, thus preceding Black BarbieŽ by one year. In 1982, the first African American KenŽ appeared. His head mold would be unique, simply because it was new. Termed the "Black KenŽ 1981" head mold, it would only be used once, then retired. This head mold appeared only on our KenŽ of the Month for this month, Sunsational Malibu KenŽ. He had it "going on" with a hip afro, and nothing much else, seeing that his appearance was in the Malibu swim line. Interestingly, his head mold is closed-mouth, giving him an air of seriousness. His swim suit is matched in color to Sunsational Malibu ChristieŽ's, which leads one to wonder if the two were intended to be a matching couple, since they look so great together. Also joining this line was a Sunsational Malibu P.J.Ž and SkipperŽ, who obviously shopped at the same swim store as BarbieŽ and ChristieŽ. At least they all chose different colors, except for SkipperŽ, who matched her big sister!
Trio!
The story doesn't end here. There was another version of Sunsational KenŽ that needs to be mentioned. Actually, two. Yes, the standard Superstar blonde hair blue eyed KenŽ head mold was present, but so was a brand new looker! Sunsational Malibu KenŽ was also made in a Hispanic version as well. He also sported a new head mold, referred to as the "Hispanic KenŽ" head mold. He would reappear again twice in 1984 as the Hispanic Sun Gold Malibu KenŽ and as native Hawaiian in Hawaiian KenŽ.
Unfortunate for collectors, the 1981 Black KenŽ mold has not be used again. Because it only appears on the Sunsational, it demands a higher secondary market value. It also falls into a particularly popular era of collecting. Unmatched, of course, was the ability for Mattel, to offer so many different same versions of KenŽ, at one time. Those truly were the days!