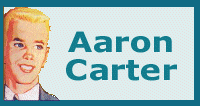 Keeping Ken

Keeping Ken Ken News!
Over the course of his brief music career, Aaron Carter has managed an impressive feat: He has become a teen idol before actually becoming a teen. Carter is the younger brother of Backstreet Boy Nick Carter.

ABOVE: Aaron with his brother "Backstreet Boy" Nick Carter.

Aaron began singing at age six, forming a band, Dead End, with two of his Florida elementary-school classmates. After two years, however, Aaron left Dead End, citing artistic differences. He decided to pursue a solo career and began working with a vocal coach. At the same time, brother Nick's group was taking off in Europe. Aaron performed occasionally with the Backstreet Boys, gaining international exposure that Dead End's gigs at the local library just couldn't provide. Aaron soon landed a contract with the German label Edel Records and issued his first European single, "Crush on You," in August 1997. One of very few Jets covers recorded anywhere in the world, "Crush on You" reached the Top 10 in several countries.

Following a European tour, Aaron released his first full-length album worldwide in 1998. His self-titled debut brings to the world Carter's European singles ("Crush on You," "Crazy Little Party Girl") and continues his tradition of ground-breaking covers with "Please Don't Go Girl," probably history's first New Kids on the Block cover. The album has gone gold in Spain, Denmark, Canada, Sweden, Norway, Taiwan, Indonesia and Thailand. In the Philippines, Aaron Carter has achieved platinum sales.

Two albums later, brown-eyed blonde Aaron Carter has established a place in the minds and hearts of "Teen Beat" readers and young girls everywhere. I became more familiar with Aaron through the official website at http://www.aaroncarter.com/. Here you can read his bio, see his tour dates, download stuff and meet his fans. It didn't take long for toy company Play Along™ at http://www.playalongtoys.com/ to take notice of the marketability of the "Prince of Pop". Three versions of Aaron Carter dolls have been released in the U.S. by Play Along™ who are best know (to me) for their Mandy Moore and Britney Spears dolls. Company PR states "Play Along Toys offers a wide range of toy and novelty products based on our extensive collection of music and entertainment personalities and brands. Music Industry stars include Britney Spears, Mandy Moore, Aaron Carter, Ateens and many more. Other celebrity lines include those for Pamela Anderson of V.I.P., International tennis champions Venus and Serena Williams, and the film and martial arts legend Bruce Lee. Through our alliances with Yaboom, Yanova, and Art Asylum, we have added many other personalities and product categories to offer you products featuring many of today's hot celebrities and entertainment brands".

Your first thought could be to dismiss the Aaron Carter dolls immediately because they aren't made by Mattel or Hasbro, therefore making them inferior products. Think again! All three versions pack what I want in a male fashion doll and more...but more on the actual dolls later!

Let's face it. I'm just as bitter about Mattel canceling Zack and renaming him Blaine™ as you are. But what did we really lose in the transition? Sure, we got a great doll in Generation Girl Blaine™, but at what cost? It goes back to what is really missing in the Barbie® doll line: a teen male doll. While Blaine™ captures a "senior" high school teen appeal delightfully, who is capturing the junior high or freshman appeal? Why isn't Mattel making another doll that specifically speaks to the age of its core consumer? Many of us might remember the Kevin® doll, which was supposed to be in high school. Kevin®'s appearance was more on the junior high level, which seemed great to most collectors. But he relied to heavily on Skipper® doll who was in redesign and transformation mode. Kevin® got lost in the transformation shuffle. From the "Keeping Ken" Kevin® page: "Amazingly, there will be a total of six versions of Kevin®, before he is discontinued in 1995. Grudgingly placed next to a brand new looking Skipper® in a Pizza Party version (her head mold had changed), a now smaller eyed blonde Kevin® must have looked out of place next to a girl he didn't recognize anymore. Who knows, maybe she outgrew him. It would appear he had his chance to prove himself after all; Mattel committed themselves to more versions of him, than most of their male Barbie® line dolls, excluding Ken®. Kevin® doll's legacy will probably be as the only doll in the Barbie® line no one can seem to remember. If given a chance to stand alone and as an individual, Kevin® may have been a success. He seemed to get lost constantly in the expanding Skipper® line. With the dramatic changes in the Skipper® line recently, and her expanding popularity, who knows if (and when) another guy will step in to take on the challenge. Maybe it will be a new cool teen version of Kevin® himself!"

I don't think we'll see another version of Kevin® anytime soon. I think the biggest mistake he made was not insisting to have the same height as Ken®. So what do we want? Another senior or a freshman 12" or shorter? Many of us would still like to see the senior line expanded within the Skipper® line. It showcases what is cool and trendy in high school. With help from friends like Nikki™ and Courtney™ you can't go wrong, with the exception of never having a boy to date. If Mattel insists on having Barbie® in the Generation Girl™ line instead of Skipper®, lets do something for Skipper®. Let's realistically explore the possibilities of expanding her line with male companions...or "dates". I voting for no short guys either. I would like to see the male dolls be 12" in height.

It's nice to have a dream, and until the dream is fulfilled, we now have a perfect filler. The Aaron Carter dolls and the upcoming A*Teens dolls fill a void for the Skipper®/male fashion doll collector by simply providing some variety.

LEFT: Until Zack gets away from home schooling, Aaron will have to do. Aaron and Skipper.
ABOVE: Press on the picture to see a larger version. Three versions of Aaron Carter. (Left to Right) "That's how I beat Shaq", "Snakeskin Pants" and "Denim Suit".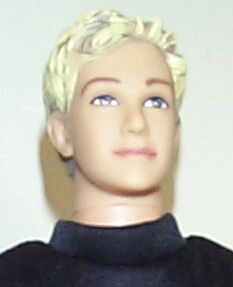 ABOVE: Head shot. BELOW: Back of the box.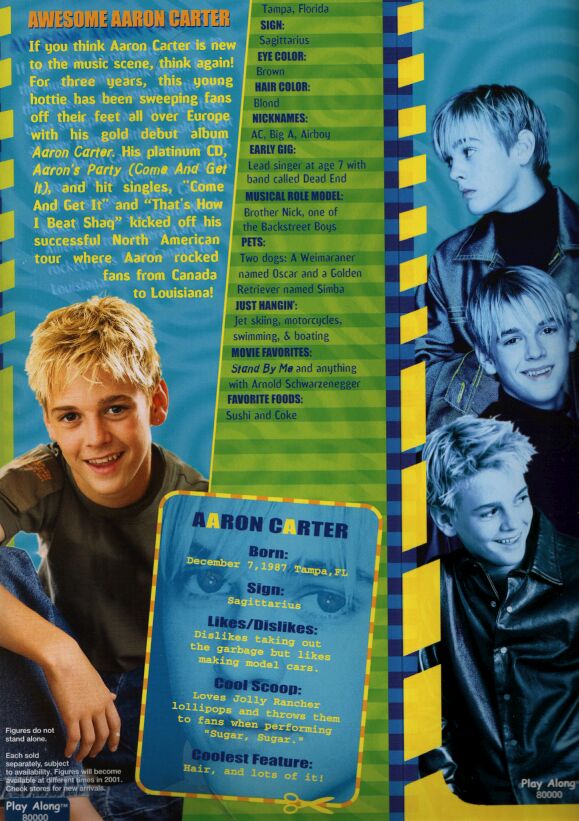 While the real Aaron Carter may only be 14 years old, Play Along™ wisely chose to make him a 12" in doll height. Not only does this help his redressing factor, it is more appealing to the male fashion doll collector. The body mold is articulated at the ankles, knees, wrists, elbows and shoulders. It has a twist waist and the legs are ball jointed. I was very impressed with the quality of the body mold, and like an action figure, he is very poseable and can stand up on his own! The head molds on each version is the same and painted very well. Being a fan of molded hair, I thought his hairstyle looked great. And another thing, remember Hasbro's S Club 7 male dolls? Placed side to side, the Play Along™ total doll quality is so much better, even I was surprised!
| | |
| --- | --- |
| | |
I still have hope that we may get Rigo, Trevor or maybe even Zach from Mattel. Until then, the Aaron Carter doll may provide a missing element in your male fashion doll collection. Not only is he well made, his fashions are also good quality. AND...he fits into Ken® fashions! Overall, I would say that this is one of the best put together new dolls I have seen for awhile. When you add all the elements together, they equal a quality doll! For those of you concerned that he will always be labeled "Aaron Carter", try to displace the thought that this is indeed a celebrity doll. When redressed in Ken®, Blaine or even the S Club 7 doll outfits, he'll look just like a normal teenager amid your male fashion doll mix.
In a few weeks I will cover the Play Along™ A*Teen male dolls Dhani and Amit, which will add even more ethnic diversity to your male fashion doll collection! Until then, Rock On with Aaron below in the snakeskin pant outfit!