This Feature Story appeared in the Keeping Ken Ken News! on May 7, 2004.

Keeping Ken

Ken News Feature Archive
HOLLYWOOD MEETS THE BEACH

Glamour

Glitter

Sun

Tan
If 1939 was the "Golden Age of Hollywood", then 1993 was one "Golden Age" for Mattel's play line. And just what does it take to reach a "Golden Age" status? In Hollywood 1939, it was films like The Wizard of Oz and Gone With The Wind. At Mattel, it was the dizzy, glittery array of Barbie® brand product turnout. Production will reach its highest level this year, as Barbie® sales reach one billion dollars worldwide in 1993.

The 1993 Mattel dealer catalogue devotes 63 pages to the Barbie® brand, approximately 90% of the items featured are new product for 1993. Play line dolls are represented in several new lines like Glitter Beach, Hollywood Hair, Secret Hearts, Bath Blast, Troll, Fun To Dress, Fountain Mermaid (with Mermaid Skipper and the Mertwins), My First Barbie (new dolls in a continuing line), Earring Magic, Paint 'N Dazzle and Western Stampin'. Most or all of these play line dolls come with a separate fashion line and accessories.

Other play line dolls are featured in their own lines, like Stacie™ and Todd™ as well as Skipper® with her new friends Kevin™ and Courtney, complete with a separate fashion line. The relatively new Shani™ line continues with a new Beach Streak line of dolls...and yes, with a separate fashion line.

ABOVE: Hollywood Hair Ken and friends. Photo ©Mattel, Inc.
And on top of all that, the new "Timeless Creations" division at Mattel produces Birthday Party Barbie®, 1920's Flapper, Gibson Girl, Army Barbie® and Ken® dolls and Dolls of the World: Australian, Native American and Italian. A Classique collection is introduced that includes two dolls and two separate Classique fashions.

1993 will continue the confusing Ken® identity trend that the year 1992 evoked. 1992 proved to shape the most inconsistent year in Ken® doll's history and provided even more confusion about Ken doll's identity. Mattel will continue to use three of the four new head molds introduced in 1992: A return of the 1990 Alan, 1991 Modified Alan and 1991 Star and Stripes Ken head molds will all be present in the Ken® line in 1993 and in the following years. (The 1991 Totally Hair Ken head mold will not be used again).

The fifth Ken® head mold (created in 1991-1992) is first used for My First Ken #1503 (BD 1992) in 1993. Marked 1991, it will be referred to as the "1991 Ken" head mold. Mattel creates a winner with one if its most handsome head molds for Ken. Similar to the 1991 Star and Stripes Ken head mold without the military aspect, it brings back a clean-cut image with combed-back hair parted on the right, open mouth smile and cheek dimples.

LEFT: Glitter Beach Ken makes a splash in the Fantasy Fountain Pool. This new play set in 1993 featured dramatic lights and working fountain that "magically" changes color from pink to purple to blue by turning the thumb wheel. Photo ©Mattel, Inc.
It would seem natural then, with production levels at their highest, for Mattel to expand and enhance the Ken® doll line. Besides the many Ken® dolls available in 1993, Mattel will design a small fashion line in conjunction with two of the Ken® doll versions available in 1993.
Four new Ken® doll fashions were available in the "My First Ken" fashion line, and another four (with matching Barbie® doll fashion) in the Great date fashion assortment. A single tuxedo fashion was also available in the Romanic Wedding Fashions line. The most interesting fashions available this year were the four that were tie-ins with the Glitter Beach Ken and Hollywood Hair Ken dolls.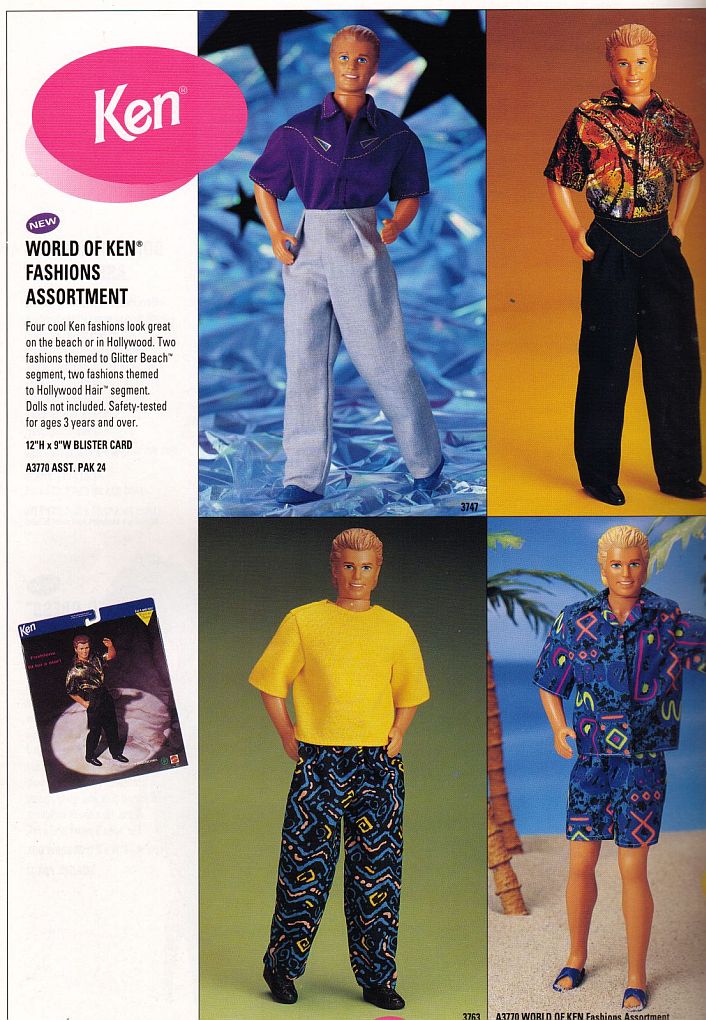 ABOVE: A page from the 1993 Mattel dealer catalogue showing The World of Ken Fashion assortment. Photo ©Mattel, Inc.
The four fashions were of course "themed" to tie-in in with Ken® dolls. The Glitter Beach fashions let Ken® "hit the beach in style", and the Hollywood Hair fashions were "fashions fit for a star".
| | |
| --- | --- |
| Glitter Beach Fashions | Hollywood Hair Fashions |
| | |
| | |
Both fashion lines evoke style trends of the time. The Glitter Beach fashions showcase multi-color print designs. These wild and colorful prints found their way from the gym (worn as work-out apparel), to the streets. The Hollywood Hair fashions feature many aspects of what was "in" in 1993...from inverted pleat pants, or yoke waist pants, to the metallic print shirts. Of all these fashions, #3767 is the hardest to find, probably because it's the most unusual. The rust/gold/black metallic print shirt speaks to you, and dares to say, "I'm the most interesting shirt ever produced for Ken". Thank goodness styles change, but you have to admit it pretty cool!
Probably the most exciting aspect for the Ken® collector was the way these fashions are presented in the 1993 dealer catalogue (pictured above). The words "World of Ken" are used in the header. This is the first time in print to my knowledge that Mattel has ever separated Ken out of the "World of Barbie®".
The early nineties are an integral part of the history of Ken® doll, mostly because of all the lavish attention paid to him starting in 1991. And while all the different head molds made it confusing by 1993, it's a time in Ken® doll's history that is certainly interesting. These fashions represent a lot more than a time stamp. Imagine if there really was a "World of Ken®", and Ken had his own separate fashion line?
If you think about it, 2004 is a lot like 1991. In 1991, Ken doll's friend Allan® (now spelled Alan™) made one appearance this year that would blur Ken® doll's identity. Unfortunately, the reappearance of Allan/Alan put Ken® doll's future in jeopardy, as test marketed consumers preferred the new dark handsome head mold made for Alan far better than the 1988 Ken painted blonde mold. In a nutshell, the new Alan™ became an overnight sensation. Will the new Blaine be the next Alan? We can only hope that the same attention Ken got back in 1991 is happening right now, because it appears that history will repeat itself. And if it does, let's hope that Ken® wins again. I'm looking forward to the next Golden Age...one that thinks the world of Ken®.