This Feature Story appeared in the Keeping Ken Ken News! on April 29, 2001.

Keeping Ken

Ken News Feature Archive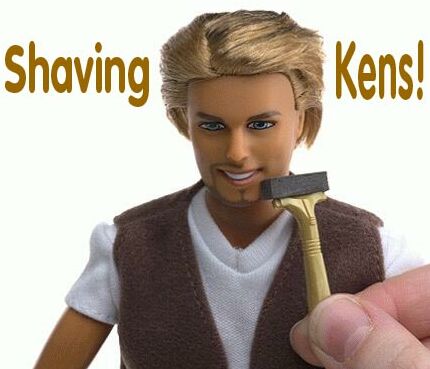 In a Pink Box, female dominated fantasy world, a Shaving Ken® is a welcome reality check. And not just for Ken Carson, but for the male Ken® collector. When departing from purple clad Prince or silver lame glam Rockstar duties, a shaving Ken® gives Ken® an opportunity to show his macho side...and at the same time gives a male collector a "stand-out" doll for show-and-tell around the water cooler at work. I find it easier to share my collector craze for Ken® with friends or co-workers with a shaving Ken® version. People not familiar with "collecting" Ken® usually have a preconceived "girl toy" image. A shaving Ken® allows me the opportunity to say "it isn't always so". I (and you can to) dispel the myth by pulling out a version with a lot of grit; and a little stubble.
I often wonder if Mattel creates the shaving Ken® dolls with me in mind. These dolls are always a departure from the normal everyday Ken® doll. In fact, this feature will examine not only the shaving dolls, but the Ken® dolls that have facial hair as well. Most of the versions are top favorites in my collection. Not only do they emulate a more macho image, the are usually just plain better Ken® doll versions! The shaving Ken® dolls have a rich history, provide unique one-of-a-kind head molds and prove to me that Mattel doesn't always solely base their product on core consumer demand.
The first shaving Ken® doll really didn't shave at all. His facial hair could be easily removed and reattached...until the glue backing wore thin. He was also one of the most influential Ken® dolls ever made. Not only did he speak about male American culture, he ushered in the Mod movement. In a breakthrough move, Mattel makes a change in Ken® that doesn't quite meet the terms of acceptability in the world of Barbie they have created. With this change they make a statement to the world, intentionally or not. Even though Ken® had crossed a barrier in 1969 with a complete image change, nothing compares to the dramatic change that takes place in 1973: long hair, along with facial hair.

1973
Mod Hair Ken #4224 (Box Date 1972) would finally settle disputes between fathers and sons whether long hair on men was acceptable in mainstream Americana. If Ken® had long hair, it was acceptable! At the same time it settled the argument of facial hair with no holds barred. Mod Hair Ken came as a complete surprise to consumers, not only because of long hair (side part; collar length), but because this is the first rooted hair Ken®.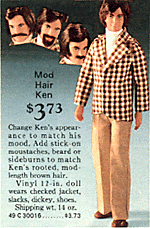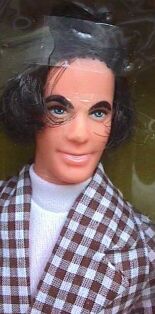 Above: Mod Hair Ken® original advertising, and doll.
The Mod hair Ken® also provided a brand new head mold called the "1972 Ken® head mold". It looks the same as the 1968 Ken® head mold, minus the painted hair. The face paint is similar, with heavily painted eyebrows and blue eyes. There are also two variations of boxes. One box has a cardboard backer and bubble front, while the other is boxed with a cardboard flap. Ken's locks were kept tame in shipping with the addition of a cello wrapper around his forehead in both box versions. Mattel advertises this Ken® with "combable" hair, but most appealing is the addition of a sheet of brown flocking stickers to create a mustache, beard or sideburns for him. Stuck directly on his face, the possibilities were endless until the sticky back of the flock wore thin. Ken® could look like Jim Morrison one minute, or like one of the Beatles in the next.

1974
Mod Hair Ken® makes another appearance exclusive to Montgomery Ward's catalog. Mod Hair Ken (Montgomery Ward's) #7234
The Mod Hair Ken® will be the beginning of a shaving Ken® doll legacy. He will also be the foundation of a rich, unnoticed tradition. Not all shaving dolls are as controversial as the Mod Hair Ken®, but certainly memorable.
Above Left: The keen eyed collector will notice that the Mod Hair (yellow) and Now Look Ken® (pink) doll box backs are the same graphics! Right: The Now Look Ken® ...ready for attachments.

1976
With less criticism than before, the second rooted hair Ken® is produced in 1976. The Now Look Ken® #9342 (Box Date 1975) can be found in two variations. The first release has a collar length hairstyle similar to Mod Hair #4224. The hair is also rooted high on the forehead, making it look as though Ken® has a receding hairline. The second release is a longer shoulder length hairstyle. The 1972 head mold is used again, with side parted brunette hair (cello wrapped) and blue painted eyes. The painted eyebrows change from a thick solid line to one with dashes at the top (If you have ever wondered how to tell the two apart...now you know). The familiar stick sheet of brown flocking to create a mustache, beard, or sideburns is included. The Now Look Ken® is packaged in a new pink color box with a clear plastic cutout window front. This change in box color is pivotal in history as the birth of the "Pink Box". From this point on, with few exceptions, this color will become synonymous with the Barbie line. Later, this color's meaning will change to "Play Line" as the years progress, with special and collector editions being produced. It's important in Ken® doll's history to recognize this change as pivotal, since collectible standards relegate the Pink Box lines at a different level.

1980
The next shaving Ken®, Sport & Shave Ken #1294 (Box Date 1979) will be full of many differences that collectors thrive on. With rooted, side part chin length brown hair, a specially designed rooted Superstar head mold is used one time only on this doll. The Sport & Shave also uses a new body mold called the "Tan Twist N Turn", which allows the doll to twist at the waist. His box says, "Shave him. He's athletic. He's all man." He is certainly different, and takes on the most macho attitude of the entire shaving line. Mattel uses Big Jim® (a Mattel boy's line doll) type arms that have jointed wrists, bendable elbows and a flesh color rubber type covering. One of the hands is curled into a fist, which makes it easy for Ken to hold the many accessories. A departure form the casual suits on his shaving predecessors, Sport & Shave is dressed in yellow shorts with white and navy piping, and a white shirt with navy piping and yellow sticker that says "All Star Marathon". Blue and white tennis shoes and an extra pair of navy pants complete his athletic look. This time a brown marker is included to draw on a beard, and two "shavers", when dipped in water, can remove it. Many accessories are included: Brush, comb, tennis racket, cologne, toothpaste and toothbrush, shaving mug, hair dryer and watch...and no gift for Barbie®.
In my opinion, Sport & Shave Ken® served dual purposes. I propose that he may very well have been a cross-over marketing ploy. Was Mattel trying to broaden Ken's appeal to the boys division? One is left to wonder..."He's all man" after all.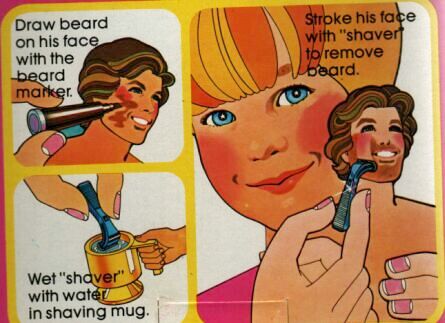 Above: Truly the first "official" shaving Ken® , The Sport & Shave Ken® doll box exclaimed

"Shave him. He's athletic. He's all man." Notice on the box back that this doll may have been marketed to boys as well as girls. The child's gender is undeterminable.

1988
When mentioning facial hair, you can't gloss over Perfume Giving Ken African American #4555 (BD 1987), who will introduce a brand new African American head mold for Ken®. The 1987 Black Ken® head mold is named for the box date, but is introduced to the market in 1988. Compared to the 1983 Black Ken® mold, the molded Afro hairstyle and smile width is scaled down considerably. In a bold move Mattel will give Ken® a painted moustache, and continue to do so through 1990. Instead of the standard black painted hair, Perfume Giving AA has painted brunette hair for a softer look, and is dressed and accessorized the same as his Perfume Giving Ken counterpart, with slight box changes picturing the AA Ken® version. This updated look is not very popular with collectors, although the moustache adds distinctiveness collectors thrive on.
1989

Adding a bit of newness the following year was the SuperStar Ken African American, #1550 (BD 1988), with its second use of the 1987 Black Ken® head mold. The moustache was back, and the hair was painted brunette again. This version and the SuperStar Ken are dressed and accessorized alike in a one-piece outfit with white satin pants and a white shirt with silver star pattern and silver collar. A pink felt bow tie and pink cummerbund set off a silver lame tuxedo jacket with tails and silver lapels. Their accessories include white loafers and socks. A silver "award" trophy is included with a silver cord necklace attached.

Above: SuperStar Ken® AA

1990
Dance Magic Ken and Dance Magic Ken AA #7082 (BD 1989), are available this year, but like the last two years, the African American version is sporting another moustache! Dance Magic Ken® AA, is available this year with the 1987 Black Ken® head mold. His color change hair is painted brown, and turns a light brown color. His face paint includes a black moustache, and marks the last time the moustache "only" will be seen on an AA version of Ken® to date.
Collectors often wonder why Mattel chose to add a moustache to the AA Ken® version, three years in a row, but excluded it from the Caucasian counterpart.

1994
It is important to recognize this year that the Hollywood Legends Ken as Rhett Butler will be the first Caucasian Ken® version with a permanent mustache "only". While this version is "portraying" a character, it's still Ken after all, and this change must be noted. A modified Alan head mold is artfully painted to resemble Clark Gable as Rhett Butler, at the Atlanta Bazaar. The youthful modified Alan® hair is painted with a subtle mix of black and gray. Tiny lines are added to "age" the face, and of course a painted moustache, for Clark Gable's signature feature.
Also this year, Shaving Fun Ken #12956 (BD 1994) is introduced with the same play features as the Dance Magic Ken®

dolls from 1990. This shaving doll takes the elements of shaving into a more realistic realm. Accessories include

shaver and bottle of shaving cream with "Ken® Shaving Cream" sticker. His face paint included a red "color magic" beard that disappears with water. The element of play are endless with this doll as you first apply shaving cream over his beard, then dip shaver in warm water (not hot!) and shave off his beard. The "shaver" is a plastic handled piece that has a sponge along the ridge. When you're finished, the box exclaims "Wow! What a clean shave! Soon his beard will grow back and you can shave it off again!"

The Shaving Fun Ken® doll is the first version with a fully painted beard. You may also notice that he is dressed more normally than most Ken versions in jam length denim shorts, multi-color stripe hooded shirt, white socks and black boots.

RIGHT: Pictured instructions on the back of the Shaving Fun Ken® doll box.

1997
The next shaving version, Cool Shavin' Ken # 15469 (BD 1996) would be a lot like the 1994 Shaving Ken® version, with minor differences. In fact, like the Mod Hair and Now Look Ken® boxes from years past, the back box text would almost be the same when comparing the two versions together. This time around, Cool Shavin' Ken® gets a little splash of after-shave...after the shave! His accessories include a purple plastic bottle of "Ken® Shaving Cream", purple shaver with foam top and play plastic bottle of "Old Spice™" after-shave. His face paint also includes a red "color magic" beard that disappears with water. He is also more realistic in dress like the Shaving Fun Ken® with tan shorts, white muscle shirt (with palm tree appliqué), chambray long-sleeve shirt, white socks and black tennis shoes with white sole. It is important to note that the Old Spice bottle is empty. You are instructed to "fill it with water, splash it on his face and pretend it's after-shave!" So how does Ken® get that manly Old Spice smell? Even Barbie® coos in a picture on the box back with Ken®. She says, "Mmmm Ken®! You're so clean-shaven and you smell so wonderful!" The secret is out...this version is special because the entire Ken® doll is scented like after-shave. Debox one sometime and you'll find out!

1999
With a two-tone brown painted permanent goatee, the CE Harley Davidson Ken #22255 (BD 1998) proved that Ken® was not only macho, but a viable collector's piece. This doll brought Ken® from the accessory stage to a strong foundation he could claim, all on his own. Most new Ken® collectors agree that the HD Ken® was the Ken® that started their collections. Who didn't want a Ken® doll that broke all the stereotypes created around his persona? With rooted brown (long; in ponytail) and faded blue jeans (with rip in right knee), he was finally getting down to business dressed in a white t -shirt with "Harley Davidson Motor Cycles" logo appliqué and black "leather look" motorcycle jacket with silver buckles and zipper. The image was made complete with black sunglasses (which he casually carries in his left hand), black cowboy boots and black motorcycle helmet.
In retrospect, The HD Ken® follows history. He is a '90's version of 1973's Mod Hair Ken®.
Another permanent facial hair Ken® is also produced this year. King Arthur & Queen Guinevere Gift Set #23880 (BD 1999) showcases Ken® with a painted on beard and moustache. This is a LE Second Edition in the "Together Forever™" Collection series

2000
Which will bring us to the most current shaving Ken® dolls. Shave 'n Style Ken #23788 (BD 1999) and Shave 'n Style Ken African American #23937 (BD 1999) explains himself on his box: "You can create lots of different looks for my dates with Barbie® doll. Here are some of my favorite looks...For casual fun, I like a goatee! For the movies, a mustache is just right for me! But when I dress up for a dinner date, I think a clean shave is really great!" The Caucasian version will be only the second rooted blonde Ken® doll ever produced. The realistic dress trend continues as both versions wear dark blue jeans with black belt, white V-neck t-shirt and camel color vest. He also comes equipped with a black bag, black boots and a burgundy shirt and burgundy stripe tie. His plastic handled and foam tipped shaver is gold, and like the past versions, when dipped in warm water, it makes the goatee disappear. New for this version is a gold plastic handled and foam tipped styling wand, for more intricate facial hair styling. When either applicator is dipped in cold water, it makes goatee reappear in the style you choose. One thing to note about this version, the beard will not reappear by itself.
Above: Both Shave 'n Style Ken® dolls proves the shaving series just keeps getting better!
A fully rooted version of a beard and moustache on Ken® is a first ever for Merlin & Morgan le Fay Gift Set #27287 (BD 2000). This is a LE First Edition in the "Magic & Mystery™" Collection series. It will be followed by a scarier permanently painted moustache version of Ken® as Gomez in the Addams Family Gift Set #27276 (BD 2000). This is a CE in the Pop Culture Series.
Finally, CE Harley Davidson Ken (Second Edition) #25638 (BD 1999) will again feature permanent facial and new chest hair. Proving that Ken can keep reinventing himself with body hair. This version speaks macho all over again, and is another subtle reminder that Ken® is now on his own! This time around the beard and moustache is full in a light brown color to match the rooted auburn hair color.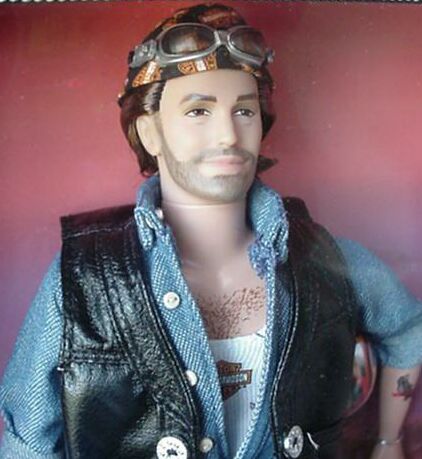 Above: Harley Davidson Ken® Second Edition...up close an personal.
The shaving and facial hair versions provide a different look to your Pink Box cities. Not only are they favorites, they give an opportunity for Ken® to be represented as more as a fashion doll, and not merely a tag-a-long. They give him the opportunity to be a man of and on his own!