This Feature Story appeared in the Keeping Ken Ken News! on January 7, 2001.

Keeping Ken

Ken News Feature Archive
New Kid On The Block...Ryan®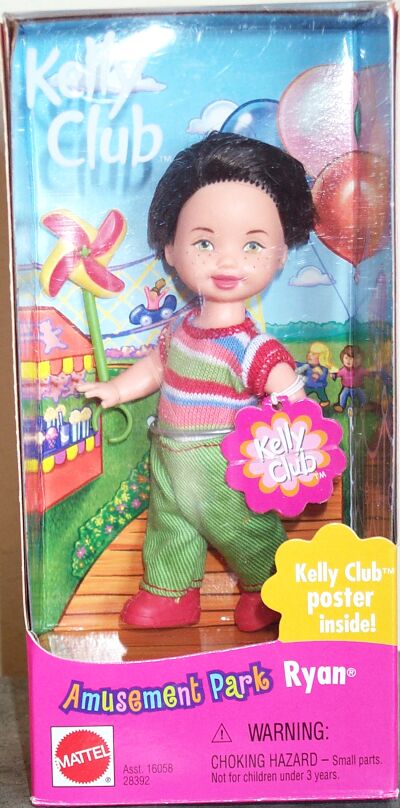 Above: Amusement Park Ryan®.
It wasn't on the top of our list. In fact, from poll results on Keeping Ken last year, a new male character in the Kelly Club™ line came in last place. While many of us would certainly like to see a Stacie® size male character, and most certainly a new male friend for Skipper® (the most popular in voting) Amusement Park Ryan® (Model #28392 BD: 2000) was released without much fan fair. Until now!
So who is this little tyke anyway? Well like most characters in this line (with more characters added yearly), his identity is not explained. What he can tell you himself in this version is this..."I've been running all around the park with my pinwheel. It makes so many pretty colors when it spins in the sun! I had to stop to ride the roller coaster. 'Cause that's my favorite ride. What a great day!" After deboxing, his numbered Kelly Club™ tag (#28392) didn't reveal too much more. His tag says "Little Ryan®, Pinwheel spinning, running, skipping, laughing, grinning." So he generally sounds like a grinning little boy who really enjoys his pinwheel and likes to laugh and run a lot. Who wouldn't at that age. Ryan® is a rooted brunette doll with a side-part. He is much different looking than Tommy™. He also has freckles (Tommy™ doesn't) and green eyes (Tommy™ doll's are blue).
I am always encouraged (as I know most of you are) to see Mattel adding male dolls to their lines. It is certainly a step in the right direction as far as I am concerned. Finally Tommy™ isn't surrounded by a bunch of girls. He has a boy pal all his own, not to mention the thousand of versions that can be made now! I have always wanted to see a "Crawdad Fishin' Tommy™" and a "Bait Totin' Ryan®". The girls in my line would be "Swimmin' Hole Kelly" and "Raftin' Belinda". Maybe Mattel will revive the "Fishin' Ken®" and could include the two boys as a gift set. Ken® could teach the boys to fish. I would love to be the text writer for the box.
While most of us would have loved to have seen a new male friend for Skipper® as your first choice, I consider any new male doll in the Barbie® line a great achievement. I can't think of anyone who wasn't disappointed about the Totally Yo-Yo Zach not being released in the Skipper® line two years ago. I know from talking to a few Skipper® collectors that they were looking forward to him too! With Skipper® doll's character becoming more "teenage" now (learning to drive etc.) I think that a male doll in this line is not far from a reality. Her character has certainly "grown-up" and has taken the same identity as her sister once did in 1959. But remember that Barbie® is still in High School in the Generation Girl™ line, which in my opinion should of been a vehicle for Skipper®. That's a little complex, and may be the reason why Skipper® (or the rest of us) never saw Zach realized. In a Barbie® dominated world, she eventually got Zach in the form of Blaine®.
With that confusing soap opera story line do we really need a complex one created for Ryan®? Do we need to "know" him? Certainly not. Let's just embrace him! Let's imagine Ryan® to be a grinning little boy who really enjoys his pinwheel and likes to laugh and run a lot.