Keeping Ken

Keeping Ken Ken News!

Keeping Ken Friends and Family

Keeping Ken Other Male Fashion/Action Dolls
In 2003, Mattel added new girlfriend Nolee™, along with My Scene™ boys Bryant™ and Hudson™.

The first male doll to appear in the line, My Scene™ Bryant™ resembles Justin Guarini from TV's "American Idol". No one really knows if My Scene™ line designer Lilly Martinez drew her inspiration for My Scene™ Bryant™ from Guarini's likeness, but the likeness is dead-on.

My Scene™ Bryant™ falls into a well-scripted image from Mattel. Most collector's like to "know" their doll's character, simply because it makes the doll more interesting. Believe me, I want to know everything! But My Scene™ doesn't need it. My Scene™ Bryant™ is the "fashion-forward" character, a character trait new to a Mattel male doll, but not new to female Mattel dolls (which unfortunately is the most typical tween stereo-type). Other (but not all) My Scene™ male dolls will also fall into well-scripted images from Mattel.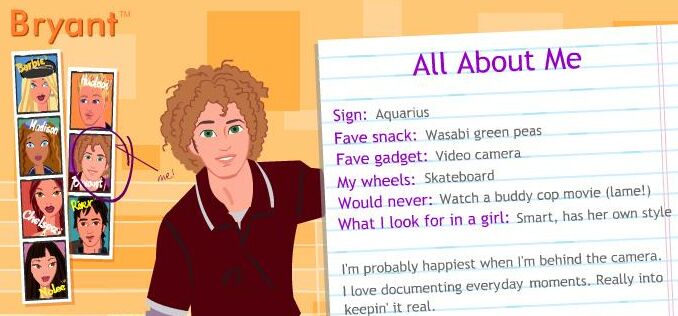 Above: Justin Guarini from TV's "American Idol".

The multi-cultural My Scene™ Bryant™ likes Vintage clothing, and from the box text: "whether you're catching rays at the beach or glances at school, looking good is always in style". Bryant™ is already being tied romantically with My Scene™ Nolee™.

With the release of second single editions of Hudson™, Sutton™ and Ellis™ (all three with new hairstyles) and a repackaged variation of River™ in the "Hanging Out™" line (technically part of the 2004 MS line), unfortunately, Bryant™ is discontinued from the line. This was disclosed in MS Barbie® doll's diary "blog" pictured below from the MS website. This leaves Nolee without a love interest, which is noted in a Holiday (2003) movie on My Scene.com. In his absence, Bryant sends Nolee a letter stating he has named a star after her as his gift.

Below: Notice of Bryant™ being discontinued from the line in MS Barbie® doll's diary "blog".

When we use the words "fashion dolls" to describe our dolls, the successful winning formula for My Scene™ can be as simple as examining each word "fashion" and "dolls" separately. Think of the words "base" and "ball". Singularly, you have two objects. When you put them together you have a game. I'm betting that My Scene™ will be successful if the words come together.
SORRY... in this section I will only give information about BRYANT™. Highlighted boxes are the Bryant™ dolls I keep.
"Fade in: A Vintage store in Soho. Me with my digicam. A girl pops out from behind the clothing racks. Our eyes meet. Love at first sight? Maybe. Ask Chelsea™."

My Scene™ Bryant™

M#: B4871 BD: 2002 HC: Rooted Strawberry Blonde (curly). C: Carpenter style knee-length denim shorts. Ribbed V-neck baseball t-shirt (light green middle, brown sleeves) with an anime cartoon growling dog appliqué l/s. Plastic red watch, silver wrist band and silver "bead" dog tag necklace. Black sunglasses (on head). Plastic slip-on socks (light green) with attached sandal (brown sole with olive and white band). A: Blue knee-length multi-color floral print swim trunks with silver waist band. Red plastic visor. Silver and black plastic boom box. Doll stand. My Scene™ booklet.

My Scene™ Bryant™(Second Edition)

M#: B6695 BD: 2003 HC: Rooted Strawberry Blonde (curly). C: Rust color corduroy pants. Burgundy shirt with black/burgundy design appliqué l/s. Red with dark red stripe design tricot shirt s/s. Plastic silver "chain bead" bracelet. Turquoise "stone" necklace. Plastic slip-on athletic shoes (red with tan design) with attached quarter sock (tan). A: Red clear sunglasses. Black crash helmet with strap. Dark walnut brown skateboard with burgundy color wheels. Doll stand. My Scene™ booklet.
My Scene Bryant is a registered trademark of Mattel, Inc. These pages are neither affiliated with, nor a representative of Mattel, Inc. Material provided on these pages do not in any way reflect the opinions of Mattel, Inc.